Sugar Alcohol
Hi,
I do not understand why the inclusion of Sugar Alcohol in Net Carbs is optional. I think, once you've consumed them, they are there and can not be ignored. In average, Sugar Alcohols provide 2 kcal/g. So you can not eat them and say you ate no carbs.
But but it would not be right to include them either, because they do not produce as much energy as real carbs. And then what can we do ?

I think the closest solution to reality is to add half the amount of Sugar Alcohol to Net Carbs because they count only half the energy.
For example, let's take 100g of "Dark Chocolate Bar, Sugar Free" from Cronometer database.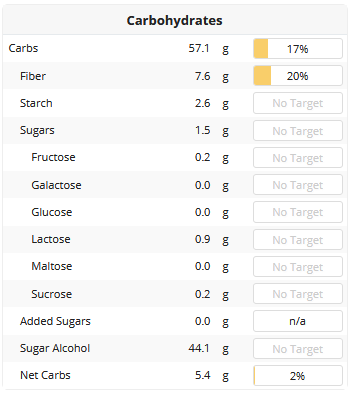 The energy from carbs is 100 kcal, calculated by subtracting fat and protein from the total energy. With Sugar Alcohol included, we have 49.5g net carbs. But these make 198 kcal, so it's not true. If we don't include Sugar Alcohol, we have 5.4 net carbs that make only 21.6 kcal. This is not true either.
But if we consider:
44.1g of sugar alcohol with 2 kcal/g
5.4g normal carbs with 4 kcal/g
...we have 88.2 + 21.6 = 109.8 kcal, much much closer to the real energy.
What do you think ?
I apologise for my misspellings, as English is not my native language.