Vitamin A
Hi,
I read about vitamin A and I understand that the official RDI of this vitamin is expressed in μg RAE (Retinol Activity Equivalents), and this is 900 μg RAE for adults, with UL being 3000 μg RAE. Before this, it was expressed in IU (International Unit) with RDI of 3000 UI and no UL.
In a ordinary day, my vitamin A intake looks like this in Cronometer: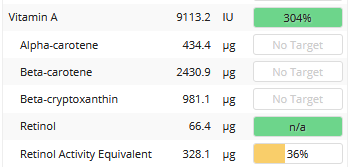 The problem is that I don't know which system should I use, that one in RAE or IU ?
The RAE shows that I don't have enough vitmain A (36%), but the IU shows that is more than enough (304%). Normally, these two % values should have been equal, because they represent the same thing. But they are not. That's what confuses me.
The conversions are:
1 IU = 0.3 µg retinol
1 IU = 0.6 µg beta-carotene
1 IU = 1.2 µg alfa-carotene or beta-cryptoxanthin
1 RAE = 1 µg retinol
1 RAE = 12 µg beta-carotene
1 RAE = 24 µg alfa-carotene or beta-cryptoxanthin
I apologise for my misspellings, as English is not my native language.